The Process for Consultation on the Central and Eastern Berkshire Minerals and Waste Local Plan
The Central and Eastern Berkshire Minerals and Waste Plan provides the planning framework for minerals and waste development in the boroughs of Reading, Wokingham, Bracknell Forest and RWBM. It sets out their long-term vision until 2036 and includes the policy context for assessing planning applications for minerals and waste development in the area.
Therefore, it is vital that members of the community comment about a policy which will lay down the arrangements for waste management for the next 20 years
The public consultation runs from 6 August 2018 to 12 October 2018. Copies of the documents are available on the Muckmentum Website https://www.muckmentum.co.uk/ and also on Hantsweb: https://www.hants.gov.uk/berksconsult .
Following the consultation, officers will prepare a Submission Version of the Local Plan which takes account of all the comments received, and this will be subject to a further period of consultation in due course.
There are four ways for your voice to be heard so please send your views either:
1. An online survey via Hantsweb: https://www.hants.gov.uk/berksconsult
2. A printable response form available via: https://www.hants.gov.uk/berksconsult
3. By email to berks.consult@hants.gov.uk
4. By post to: JCEB Consultation Strategic Planning, ETE Hampshire County Council, The Castle, Winchester, Hampshire, SO23 8UD
NB: The last two options are the simplest. Muckmentum encourages you to respond in any way you feel comfortable but please note that all correspondence should include:
1. Your name and address.
2. Email address if you have one.
3. Ask that your comments are included in the consultation, so all people can view them
4. Reasons should ideally be referenced to the waste and mineral plan, see suggested guidance below on what policies to oppose. You should also feel free to include any further comments relating to the site allocation of Star Works inc transport, countryside, Green Belt, protection of habitat, amenity impacts etc
5. Ask to be informed of the outcome of the Mineral and Waste Planning consultation process and informed if/when a formal planning application is made for any site.
Muckmentum's suggested points for opposing the waste and mineral plan:
1) (Opposing W1) Waste sites should be located well away from residential properties where they have a detrimental impact on the quality of life for residents (as it currently does in Knowl Hill). Based on pollution, noise impacts, pests, safety and vehicle movements.
2) (Opposing W2) Existing waste sites should not receive any special protection or be automatically safeguarded from other development as this could encourage over landfill use or other waste development in one place. (As is the case in Knowl Hill) this would place undue pressure on one area within the waste and mineral plan.
3) (Opposing W4, site allocations) Star Works, Knowl Hill is not a suitable site for further waste operations due to its location in a village and within 50 yards of residential property.
The potential of further lorries already using a saturated A4 would pose unacceptable health and safety risks for users.
The landfill at Star Works is now in the restoration phase and in the process of being restored back to woodland. Any further development would be detrimental to the village and the landscape (see opposition to policy W2) There was only a need for a landfill in Knowl Hill and a waste facility due to a large hole created from clay extraction from 1994.
Wokingham Borough Council committed to residents that when the landfill was completed that there would never be any further extensions to landfill in Knowl Hill.
Protection of Habitat and Species - Knowl Hill has several protected species including great crested newts and cattails.
Knowl Hill is surrounded by designated important landscapes - Linden Hill Wood is ancient and protected.
Prevailing winds carry unpleasant odours and noise across a wide radius of the site amongst others including: Warren Row, Bowsey Hill and Knowl Hill
4) (Opposing W1,W4) As Knowl Hill is a large residential village in the green belt, waste facilities should not be located near residential properties. The effects of an increase in capacity at the site would be a substantial increase in odours, vehicle noise, light pollution, pests, and importantly the impact on family life on a 24/7 operational basis, which is unfortunately already and currently in place.
5) (Opposing W1,W4) There is not a good enough sustainable vision for suitable transport links in the area. The A4 is a known dangerous road with multiple injuries and fatalities over the last 10 years. See http://www.crashmap.co.uk/search Any increase in heavy goods vehicles would be an increased and unacceptable health and safety risk to our community. The A4 is more likely to be grid locked affecting residents commuting time if capacity at the Star Works was significantly increased. The A4 is the main route for traffic when the M4 is out of use as it will be intermittently until 2022.
6) (Opposing W1,W2,W4)There is a significant recreational use of the area surrounding the Knowl Hill Star Works which include bridle ways, footpaths, The Chiltern Way, Knowl Hill Bridal Way Circuit and Sustrans Cycle Route; further development would impact considerably on these amenities and activities.
Word Copy: Opposition Guidance Document Muckmentum.odt
Lastly, if you're able to help our campaign in anyway we would love to hear from you.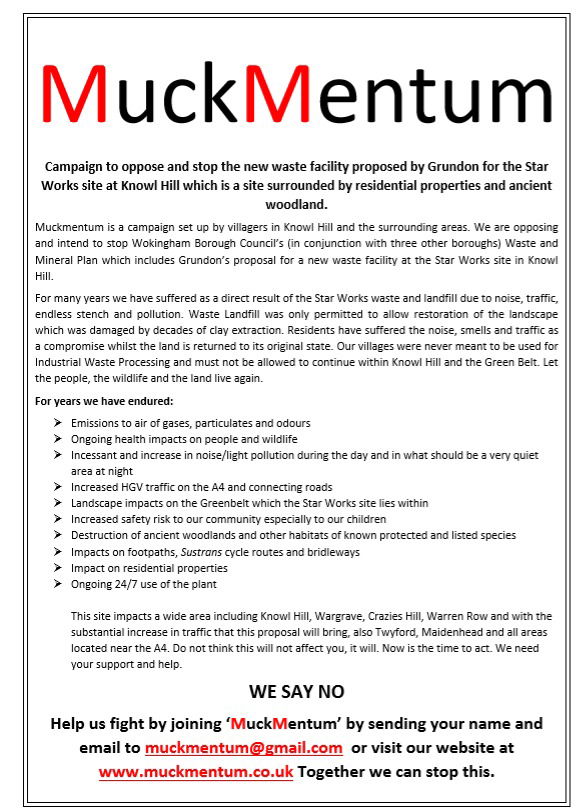 If you would like to give some information to your friends or family about Muckmentum why not print off our Muckmentum flyer to give to them. MUCKMENTUM Flyer[8911].pdf